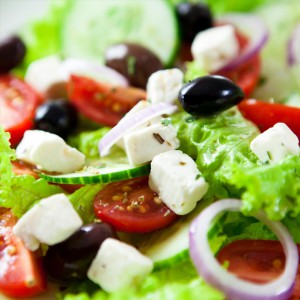 Greek salad is perfect for pizza nights, gryo nights, or add chicken and it's a main course! This recipe is really simple to make and the dressing is delicious!
Here's what you'll need:
For the Salad:
1 head romaine lettuce
1 small red onion, sliced thin
6 oz. pitted black olives
1 green bell pepper, sliced thin
1 red bell pepper, sliced thin
1 cup grape tomatoes, halved
1 cucumber, sliced thin
1 cup feta cheese, crumbled
For the Dressing:
6 tsp. olive oil
3 tsp. red wine vinegar
1/4 cup lemon juice
1 tsp. oregano
1/2 tsp. garlic powder
3 tsp. white sugar
Directions:
Begin by washing all your vegetables. Tear the lettuce and toss in a large salad bowl. Slice the onion, peppers, tomatoes, cucumbers, and add them to the salad. Add the feta cheese and black olives and toss.
For the dressing, combine all your ingredients in a mason jar and shake before serving.
Enjoy!