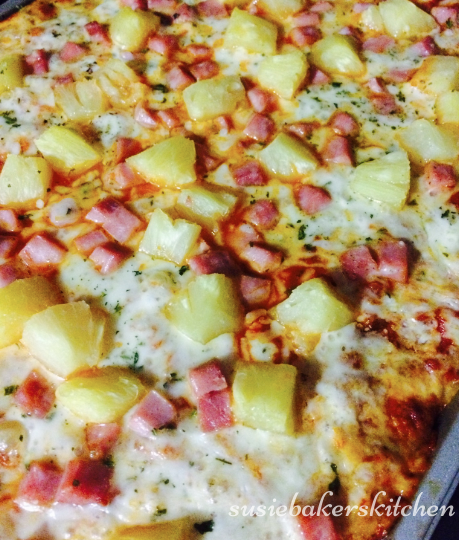 My favorite kind of pizza is Hawaiian Pizza! This recipe is so easy to make, you'll never be ordering delivery again!
Here's what you'll need:
1 pkg. pillsbury pizza crust
1 cup mozzarella cheese
1/2 jar Marinara sauce
1 cup diced ham
1 cup chunked pineapple
1/4 cup grated Parmesan cheese
1/2 tsp. Parsley
salt and pepper, to taste
1/2 tbsp. olive oil
Directions:
Grease a cookie sheet and unroll dough.
With a basting brush or a spoon, spread olive oil on the dough, leaving 1 inch around the perimeter for the crust.
Spread the sauce on the pizza, followed by the ham, pineapple, and both cheeses.
Season with parsley and salt and pepper, to taste.
Bake at 400 degrees for 20-30 minutes.
Enjoy!