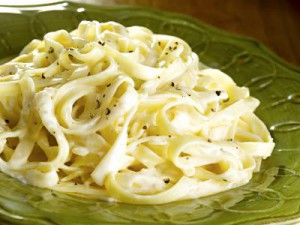 I never knew alfredo sauce was so easy to make at home, until I did! Serve with chicken or seafood (try my Seafood Fettuccine Alfredo!) and enjoy!
Here's what you'll need:
4 Tablespoons butter
1 tbsp. minced garlic
4 ounces (1/2 package) cream cheese
1 cup milk
1/3 cup Parmesan cheese, freshly grated
salt and pepper, to taste
Directions:
Melt butter in a medium saucepan over medium heat.
Add the garlic and cook until fragrant; about 1 minute.
Place the cream cheese in the saucepan and whisk until smooth.
Add the milk, and whisk until smooth and combined.
Stir in the Parmesan cheese, salt and pepper.
Continue to stir until sauce thickens.
Remove from heat and combine with noodles and meat.
Enjoy!