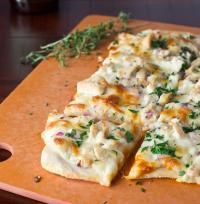 This simple white pizza is delicious and great for a weeknight meal. It's totally kid friendly and a breeze to put together.
Here's what you'll need:
For the sauce (My Alfredo Sauce), halved:
2 Tbsp butter
1 tbsp. minced garlic
 1/4 cup cream cheese
½ cup milk
¼ tsp salt
2 tbsp + 1 tsp Parmesan cheese
salt and pepper to taste
For the pizza:
1 pkg. Pillsbury pizza dough
1/8 cup Parmesan cheese
1½ cup boneless skinless chicken breast, cooked and shredded
¼ cup red onion, diced
¾ cup Mozzarella cheese, shredded
1 tsp thyme
½ tsp oregano
1 Tbsp. parsley
1/2 tbsp. olive oil
Directions:
Preheat the oven as directed on the Pizza Dough Package.
In a small pan over medium heat, place the chicken in water and cover. Bring to a boil. Flip the chicken once almost the entire breast turns white. This takes about 10-12 minutes.
Melt butter in a medium saucepan over medium heat. Add the garlic and cook until fragrant; about 1 minute. Place the cream cheese in the saucepan and whisk until smooth. Add the milk, and whisk until smooth and combined. Stir in the Parmesan cheese, salt and pepper. Continue to stir until sauce thickens.
After the chicken is cooked, take two forks and shred the chicken.
Roll out the pizza dough onto a greased cookie sheet.
With a basting brush or a spoon, spread olive oil on the dough, leaving 1 inch around the perimeter for the crust.
Pour the sauce onto the dough and spread all over leaving about 1 inch perimeter for the crust.
Add the onions, spices, and shredded cheese.
Bake in oven according to the pizza dough package instructions.
Enjoy!