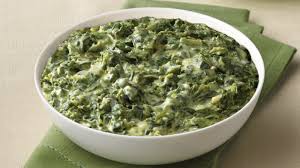 This veggie favorite is a classic! I like this recipe specifically because of the garlic and onion, which adds a nice kick to it. And it's also super kid friendly.
Here's what you'll need:
2 tablespoons butter
1 tablespoon olive oil
1 Vidalia onion, minced
1 clove garlic, minced
2 bunches spinach, stemmed and chopped
Salt and freshly ground black pepper
1/4 teaspoon freshly ground nutmeg
1/4 cup heavy cream or milk
Directions:
In a medium saute pan over medium-high heat, melt butter and then add the olive oil.
Mix in the onions and garlic; cook for 2 minutes until soft.
Add the chopped spinach and warm through.
Add the salt, nutmeg and the heavy cream. Mix well. Cook until liquid reduces by half, roughly 3 to 4 minutes.
Serve hot and enjoy!
[do_widget categories]
[do_widget id=search-4]