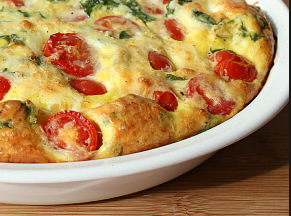 An Italian frittata is perfect for Sunday brunch! I like to get my salami from the deli counter at my grocery store. Ask them to cut the salami thick, not deli style, for this scrumptious breakfast!
Here's what you'll need:
1 cup shredded mozzarella cheese
Directions:
Preheat oven to 425 degrees F (220 degrees C). Grease a shallow 2-quart baking dish.

Heat a skillet over medium heat; cook and stir salami, artichokes, tomatoes, and mushrooms until heated through, about 4 minutes. Transfer salami mixture to baking dish.

Whisk eggs, milk, green onions, garlic, basil, onion powder, salt, and black pepper in a large bowl; pour eggs over salami mixture. Sprinkle with mozzarella cheese and Parmesan cheese.

Bake until eggs are set and cheese is melted, about 20 minutes.