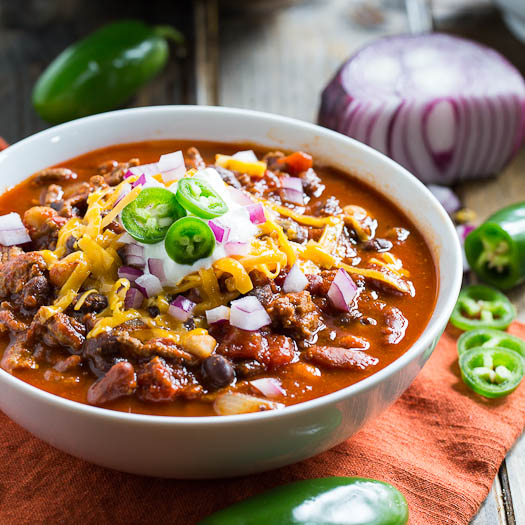 1 tbsp. veg oil
1 onion, diced
2 pounds lean ground beef
2 teaspoons salt, plus more to taste
3 cloves garlic, minced
3 tablespoons ground ancho chile powder
1 tablespoon ground cumin
1 teaspoon paprika
1 teaspoon ground black pepper
1/8 teaspoon ground cinnamon
1 (12 ounce) bottle beer
1 teaspoon unsweetened cocoa powder
1/4 teaspoon dried oregano
1/4 teaspoon ground cayenne pepper
2 cups water, or as needed
1 cup tomato puree
2/3 cup diced poblano pepper
2 (12 ounce) cans pinto beans, drained and rinsed well
In vegetable oil. Add diced onion, ground beef, and salt. Break up meat with wooden spoon into small pieces as it browns. After meat browns and releases its juices, continue stirring until the released liquid evaporates, about 4 minutes. Reduce heat to medium-high. Add garlic, chile powder, cumin, paprika, black pepper, and cinnamon. Cook and stir until mixture begins to darken, 3 OR 4 MINUTES
Stir in beer. Add cocoa powder, oregano, cayenne, water, and tomato puree; stir well. Bring to a simmer; adjust heat to medium-low. SIMMER 30 MINUTES
Stir in diced green pepper and pinto beans. If mixture becomes too thick, add a bit more water. Simmer until peppers are tender and flavors have blended, about 30 more minutes.