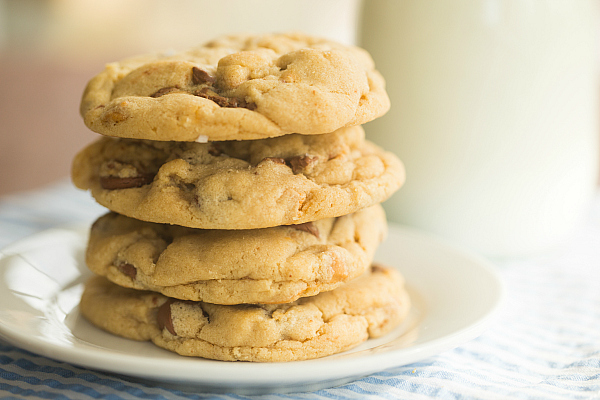 ½ cup unsalted butter, softened
½ cup granulated sugar
½ cup brown sugar
½ cup creamy peanut butter
1 large egg
1 tsp vanilla
1 ½ cups flour
1 tsp baking soda
½ tsp salt
Heat oven to 350° F.
Using an electric mixer, beat the peanut butter and sugars on medium-high speed until fluffy, 2 to 3 minutes. Reduce speed to low and beat in the eggs, vanilla, flour, baking soda, and salt.
Cool the dough for 30 minutes in the refrigerator.
Roll heaping tablespoonfuls of the dough into balls and place on parchment-lined baking sheets, spacing them 2 inches apart. With a lightly floured fork, press the dough to a ⅜-inch thickness, making a crisscross pattern on top of each cookie.
Bake, rotating the baking sheets halfway through, until the edges are set, 10 to 12 minutes. Cool slightly on the baking sheets, then transfer to wire racks to cool completely. Store the cookies in an airtight container at room temperature for up to 5 days.