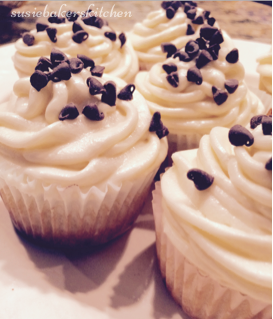 For the cupcakes:
1 and 1/3 cup (158g) all purpose flour
3/4 teaspoon baking powder
1/4 teaspoon baking soda
3 1/2 tbsp. cornstarch
1/4 teaspoon salt
1/2 cup (115g) unsalted butter, softened to room temperature
1 cup (200g) granulated sugar
3 large egg whites, at room temperature
2 teaspoons pure vanilla extract2
seeds scraped from 1/2 of a vanilla bean
1/2 cup (120g) full-fat sour cream at room temperature3
1/2 cup (120ml) whole milk at room temperature
For the frosting:
1 cup (230g) unsalted butter, softened to room temperature
4 – 5 cups (480-600g) confectioners' sugar
1/4 cup (60ml) heavy cream
2 teaspoons pure vanilla extract
salt, to taste
Directions:
Preheat oven to 350 degrees. Line muffin tin with cupcake liners. Set aside.
In medium size bowl combine the flour, baking powder, baking soda, and salt. Whisk the dry ingredients together to incorporate. Set aside.
In mixing bowl add the room temperature butter. Beat on medium speed for about 1 minute to loosen up the butter, add in the sugar and beat on medium speed for about 2-3 minutes to cream the butter and sugar together until light and fluffy. *More information on this in the post
Add in the vanilla extract and add in the eggs one at a time, mixing in between.
Mix in the greek yogurt. Remove the bowl from the stand mixer.
Slowly add in 1/3 of the dry ingredients, then 1/3 of the milk. Mix with a rubber spatula gently, just until most of the flour is incorporated, not fully mixed. Continue with this method until all the milk and dry ingredients are added. Gently stir the batter to incorporate all the dry ingredients, it's ok if there's some lumps in the batter. Don't overmix.
Scoop the batter into the cupcake liners filling them about 2/3 full.
Bake for 15-16 minutes until fully cooked, tops will be golden and a toothpick inserted into the center will come out clean.
Allow to cool in the tin for 2-3 minutes and then carefully remove cupcakes to continue cooling on a wire rack.
For the frosting:
In medium bowl, mix powdered sugar and butter with spoon or electric mixer on low speed. Stir in vanilla and 1 tablespoon of the milk.

2

Gradually beat in just enough remaining milk to make frosting smooth and spreadable. If frosting is too thick, beat in more milk, a few drops at a time. If frosting becomes too thin, beat in a small amount of powdered sugar.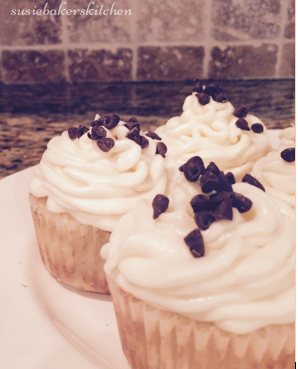 Happy Munching!