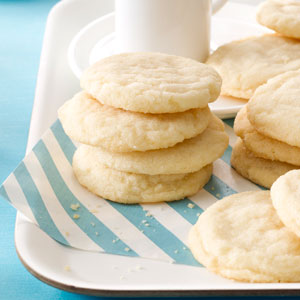 A general rule of thumb in baking is that if your cookie dough tastes good, your cookie will taste good. The dough made in this sugar cookie recipe is to die for.
Here's what you'll need:
1 and 1/4 cup white sugar

1 cup butter, softened

3 egg yolks

1 tsp. vanilla extract

2 and 1/2 cups flour

1 tsp. baking soda

1/2 tsp. cream of tartar
Directions:
To start, preheat your oven to 350 degrees.
Once the butter has softened, combine the butter and the sugar in a large bowl.
In another bowl, prepare your dry ingredients: this is your flour, baking soda, and cream of tartar.
Next, carefully separate the egg yolks from the egg whites. It's an easy thing to do once you get the hang of it; simply break the egg and use the egg shell halves as cups for your yolk. Switch the yolk back and forth from the egg shell halves while allowing the egg whites to fall into a bowl or your sink.
Add the egg yolks to your bowl of sugar-butter.  Add the vanilla extract and mix together well.
Now pour the dry ingredients into your bowl of sugar, butter, eggs, and vanilla. Carefully mix everything together. Your batter should be crumbly when your through mixing. This is what gives the cookies that beautiful sugar cookie "cracked" look!
I like cookies that are the perfect combination of soft and thick. To have thicker cookies, place your dough in the refrigerator for about half an hour before you distribute them onto the cookie sheets. If you like a flatter cookie, you can skip this and go straight ahead to balling up the dough!
When your dough is ready, lightly grease your cookie sheets. It is important to not over-do it on the grease; too much grease on the cookie sheets will cause the cookies to unevenly spread along the sheet while baking.
To ball your dough, you can use your hands, two spoons, or a cookie scoop. If you bake as much as I do, you'll quickly realize that a cookie scoop is your best friend. They portion out the perfect amount of dough every time, and it makes no mess! I have two dishwasher-safe cookie scoops, a teaspoon and a tablespoon, and they're just perfect.
Place the cookie dough balls about 2 inches apart from each other on the cookie sheet. Place in preheated oven and bake for 7-9 minutes. I always bake on the side of caution, and take cookies out of the oven a minute early. The cookies still bake on the cookie sheet when they're cooling! Keep them on the cookie sheets for 10 minutes before you move them to cooling racks.
All done, just eat and enjoy!  To store: keep these cookies in an air tight container at room temperature. Avoid putting them into canisters before they have completely cooled. The cookies will stick together if they haven't been brought to room temperature before they are clumped together.
Happy Munching!