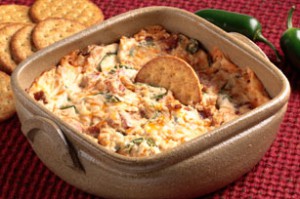 It's bacon and cheese, what's not to love? This dip freezes and stores well, so I always make a lot and put the leftovers in mason jars. But if you're taking it to a party, I promise there won't be leftovers! #anythingbacon #dip #partypleaser #cheese
Here's what you'll need:
2 cups sour cream
2 cups shredded cheddar cheese
1 cup cream cheese, softened
1 cup chopped green onions
3 oz. Bacon crumbles
Directions:
Preheat the oven to 400 degrees.
Cut your green onions into small pieces. Combine all your ingredients in one large bowl and stir. Pro-tip: It's easier if you take the cream cheese out half an hour prior to baking, bringing it to room temperature.
 Transfer the dip into a lightly greased baking dish and bake for 25-30 minutes.
Take the dip out of the oven halfway through baking and stir. Be careful, it'll be hot!
Serve with pita bread, crackers, or chips and enjoy!
[do_widget categories]
[do_widget id=search-4]