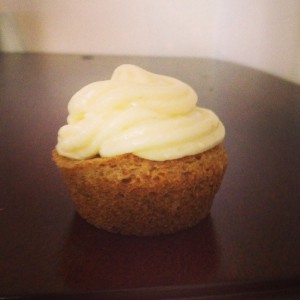 Fresh carrots and homemade cream cheese icing is the only way to go when it comes to making a carrot cake! These little cupcakes are never around long in my house.
Here's what you'll need:
For the cupcakes:
1 cup self-rising flour
3/4 cup sugar
1 tsp. cinnamon
1 tsp. baking soda
1/2 tsp. baking powder
1/4 tsp. salt
1 and 1/2 cups carrots, grated
2/3 cup vegetable oil
2 eggs
For the icing:
1 cup cream cheese
1 cup butter
4+ cups powdered sugar
2 tsp. vanilla extract
Directions:
For the cupcakes:
Preheat your oven to 350 degrees
In a large mixing bowl, combine the flour, sugar, baking soda, baking powder, and salt. In a separate bowl combine the grated carrots and vegetable oil. Slowly add the carrot mixture to the flour mixture and mix until combined.
Beat two eggs into the batter and stir. For this step, the less you stir, the better.  (About 12 times around the bowl!)
Pour the batter into lightly greased mini-muffin pans. Fill the pans about 2/3 full. Put the cupcakes in the preheated oven and start on making the icing! The cupcakes should be done in 10-12 minutes.
For the icing:
Combine the cream cheese, butter, and vanilla in a mixing bowl. (protip: Remember to let your cream cheese come to room temperature before you do this!)
Add the powdered sugar little by little and stir simultaneously. Add more powdered sugar as you like, to taste. Transfer mixture into a plastic bag or tubing pipe for quick and beautiful icing!
Make sure you wait until the cupcakes have cooled to ice them! Otherwise the icing will melt and your cupcakes won't be perfect.
Enjoy!