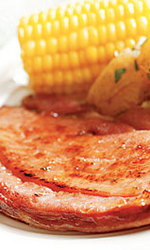 It doesn't have to be Easter to eat ham! I love ham steaks, and they are usually always on sale at my local grocery store. This is an amazing meal that is surprisingly simple, and is totally kid friendly. This recipe serves two, but it can easily be doubled or tripled!
Here's what you'll need:
1 large ham steak
4 tbsp. brown sugar
1/3 cup apple cider vinegar
1 tsp. dry mustard
1/2 cup apricot preserves/marmalade
1/2 tsp. cinnamon
1/4 tsp. ground cloves
1/4 tsp. ginger
a dash of nutmeg
Directions:
Preheat your oven to 350 degrees.
To start, heat a lightly greased skillet over medium-high heat. Remove the ham steak from its packaging and cook in the skillet. The meat is done once it begins to brown on both sides. This should take no longer than 6 minutes depending on hot your burner is.
Next, pour your apple cider vinegar into a large baking dish. Add the brown sugar and dry mustard and mix well. When the ham is done, remove the ham steak from the skillet and place it in the baking dish. Make sure the ham steak is either submerged in the vinegar mix, or brush the vinegar mix onto the top of the ham steaks. Cover and place in preheated oven.
While the ham is baking, pour your apricot preserves into a small sauce pan on the stove, and cook over medium heat. Make sure the burner isn't too hot, or your apricots will burn to the bottom of the pan.   Stir the apricots and break up any chunks.
Add the cinnamon, ground cloves, ginger, and nutmeg to the sauce pan. Mix until fragrant.
The ham steak should be done baking after 20-25 minutes. Carefully remove the dish from the oven and remove the ham steak from the vinegar. Top your ham steak with the apricot glaze and enjoy!
Serve with corn or mashed potatoes to have a delicious and hearty meal. Happy Dining!