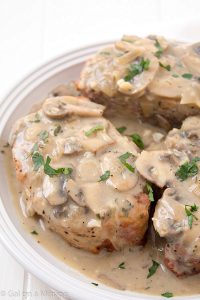 This dish takes only thirty minutes to make and it's full of flavor! I love pork chops, and this mushroom gravy compliments the meat so well. I usually make mashed potatoes with this dinner, and top those with the gravy as well!
Here's what you'll need:
4 1/2 -inch-thick bone-in pork chops (2 to 2 3/4 pounds), fat trimmed

Kosher salt and freshly ground pepper

2 tablespoons all-purpose flour

1 1/2 tablespoons extra-virgin olive oil

12 ounces cremini or white mushrooms, thinly sliced

3 cloves garlic, thinly sliced

1 bunch scallions, whites sliced, greens cut into 2-inch pieces

1/2 cup low-sodium chicken broth

2 tablespoons low-fat sour cream

3/4 cup chopped fresh parsley
Directions:
Season the pork chops with salt and pepper; sprinkle all over with 1 1/2 tablespoons flour.

Heat 1/2 tablespoon olive oil in a large nonstick skillet over medium-high heat.

Working in 2 batches, add the chops and cook until golden and just cooked through, 3 to 4 minutes per side, adding 1/2 tablespoon olive oil to the skillet between batches.

Transfer the chops to a plate and keep warm.

Heat the remaining 1/2 tablespoon olive oil in the same skillet; add the mushrooms, garlic, scallion whites and a pinch of salt and cook, without stirring, until the mushrooms begin to brown, about 3 minutes.

Sprinkle in the remaining 1/2 tablespoon flour and cook, stirring occasionally, until the mushrooms are soft, about 3 more minutes.

Stir in the chicken broth and sour cream, bring to a simmer and cook until the gravy thickens, about 1 more minute.

Stir in the scallion greens and parsley.  Pour over pork and, if you like, mashed potatoes.
Serve with mashed potatoes and your favorite vegetable, and enjoy!