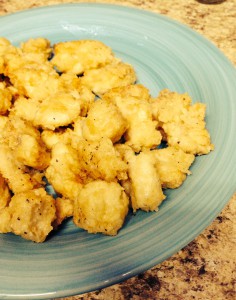 Chicken Nuggets are a classic American food, so I spent hours trying to track down the perfect recipe. We love these chicken nuggets in my house! Double the batch and freeze them, too!  Make sure you check out my copy-cat chick-fil-a sauce to go along with them!
Here's what you'll need:
1-2 lbs boneless skinless chicken
2 eggs
1 and 1/2 tbsp. ground black pepper
3 tbsp. garlic salt
2 cups flour
peanut oil or vegetable oil for frying
Directions:
Place a skillet over medium heat and fill generously with oil. You'll want the oil deep enough to cover at least half of the nuggets.
Cut chicken into bite-size pieces.
Mix together the flour, garlic salt, and pepper in a large bowl.
In a separate bowl, beat the eggs.
One by one, coat the chicken nuggets in the eggs and then in the flour mixture. Make sure to cover the nuggets completely and generously; a lot of flour falls off when frying.
Place the chicken nuggets in your skillet and fry until golden brown, in batches. Each batch should take no longer than 7 minutes.
Just before you think the chicken is done, remove the nuggets from the skillet and place on a paper-towel covered serving plate. The oil that stays on the chicken will fry the nuggets that little bit extra that you need to get the perfect golden-brown color.
When the nuggets have cooled, throw away the greasy paper towel and serve!
Happy Munching!