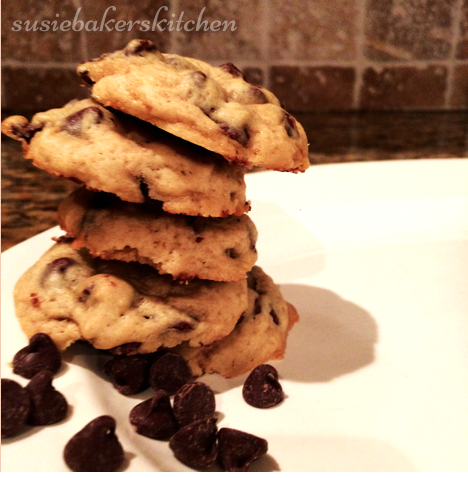 Like most bakers, I've spent hours and hours working to find the perfect chocolate chip cookie recipe. And I think I have finally figured it out.
Here's what you'll need:
2 cups all-purpose flour
2 tsp. cornstarch
3/4 cup butter, softened
3/4 cup packed brown sugar
1/4 cup white sugar
1 egg + 1 egg yolk, room temperature
2 tsp. vanilla extract
1 tsp. baking soda
1/2 tsp. salt
1 and 1/4 cups chocolate chips
Directions:
Begin by preheating your oven to 350 degrees.
Take all of your refrigerated ingredients out of the fridge and let them reach room temperature (about 20-30 minutes). This is pretty much the cardinal rule of baking.
 When the ingredients are ready, combine your butter, brown sugar, and sugar in a large mixing bowl.
I especially love this recipe because of the brown sugar to white sugar ratio; the more brown sugar you use in a cookie, the more moist it'll be. And I think thick, moist chocolate chip cookies are the best kind of cookies.
Next, beat in the egg and egg yolk. Egg yolks make the cookies thicker! In some recipes, like my favorite Sugar Cookies, I often use only egg yolks to get that thick chewy texture I love.
Add the vanilla extract and mix well.
Now, prepare your dry ingredients. (The flour, the salt, the baking soda, and cornstarch. Make sure you measure the flour correctly! Remember, baking is a science, so this stuff really matters!
Combine your dry ingredients and your cookie batter. Whisk well and then add the chocolate chips
When the cookie dough is ready, cover it with plastic wrap and put it in the fridge for 1 hour (or up to 3 days)! Chilling the dough guarantees a much thicker, chewier cookie. When you don't chill the cookie dough, that's when cookies end up falling flat (literally.)
 Once the dough is ready, scoop portions onto lightly greased cookie sheets and bake in the oven for 7-9 minutes. Take the cookies out right before you think they look done. Cookies bake still on the cookie sheets even after they are removed from the oven. Keep the cookies on the cookie sheet for 3-5 minutes before transferring to cooling racks.
Do not overlook the importance of cooling cookies! This is what makes the difference between perfect cookies and ones that crumble and fall apart.
Happy Munching!