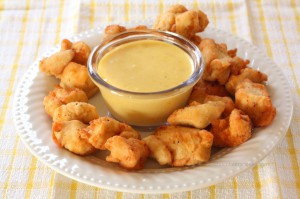 I love Chick-fil-A! For so long I have wanted to find a recipe that tasted exactly like Chick-fil-A sauce, and this is it! The secret is using Colelaw dressing, which can be found in the same aisle as salad dressings.
Here's what you need:
1/2 cup Coleslaw Dressing
1/4 cup Honey BBQ Sauce
1 tbsp. Yellow Mustard
1 and 1/2 tsp. honey
Directions:
Combine all of the ingredients into a small bowl and whisk to combine. If you like a sweeter sauce, add more honey!
Store in the refrigerator for up to two weeks, and enjoy! If you need a chicken nugget recipe, check out mine! My boyfriend gobbles these right up, especially on Sundays! ;)
Enjoy!