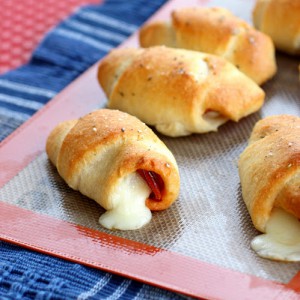 No need to buy pizza bites ever again! These Pepperoni Roll Ups are baked golden brown and ooze with cheese. What's not to love?
Here's what you'll need:
2 pkgs. croissant dough
1 pkg. pepperonis
8 Mozzarella string cheese
1 tbsp. olive oil
1 tbsp. Italian seasoning
1 tsp. garlic powder
sea salt, to taste
Directions
Begin by preheating your oven to 350 degrees. Take the cheese out of the fridge so it softens a bit.
Next, roll out the croissant dough onto a greased baking sheet. Brush olive oil onto each croissant.
Lay out 8-10 pepperoni slices on each croissant. Place half a string cheese on each and roll the dough up!
Sprinkle with Italian seasoning, garlic powder, and sea salt. Bake in oven for 12 minutes.
When the croissants have turned golden-brown, take them out of the oven and let them cool.
Serve with warm marinara sauce for dipping!