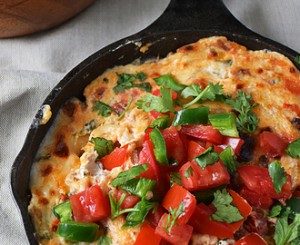 Need I say more? It's bacon and jalapeños…this creamy, delicious dip will fly out of its bowls at any party or Football Sunday.
Here's what you'll need:
2 slices bacon or 2 10 oz. bag of bacon crumbles
1/3 cup finely diced jalapeños
1 (8 ounce) package cream cheese
1 cup shredded cheddar cheese (or your favorite blend)
Your favorite salsa
Fresh cilantro
Directions:
Heat a skillet over medium heat and cook 2 pieces of thick sliced bacon to just starting to crisp. Remove the bacon from the pan and drain all but 1 tablespoon fat from the skillet.
Saute 1/4 cup finely diced jalapeños in the bacon fat for about 30 seconds until they just start to soften. Add 1 (8 ounce) package of cream cheese to the skillet. Stir to combine with the jalapeños. Mix in most of the crumbled bacon, reserving about a tablespoon for garnish.
Spread 1 cup of your favorite shredded cheese blend over top of the cream cheese mixture, and place the skillet under the broiler until the cheese is melted and lightly browned. Remember to leave the oven door ajar when broiling and watch it closely! It will burn quickly.
When the cheese is lightly browned to your liking, remove it from the oven and garnish with freshly sliced tomatoes or salsa, diced jalapeños, the reserved bacon crumbles and some freshly chopped cilantro.
Serve with your favorite tortilla chips and enjoy!