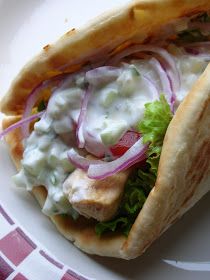 I love meals that can be made in a crockpot! This chicken gyro recipe is both simple and delicious, my fiancé: gobbled these right up! I also included my recipe for tzatziki sauce. I usually make a lot of sauce at once and store them in mason jars in my freezer.
Here's what you'll need:
For the gyro:
1 lb boneless, skinless chicken
½ cup white onion, diced
2 tsp. garlic, minced
½ cup lemon juice
2 tbsp. olive oil
4 tbsp. red wine vinegar
1 teaspoon oregano
water or chicken broth to cover chicken
4-6 slices of pita bread
red onions, optional
lettuce, optional
tomatoes, optional
For the Tzatziki Sauce:
1 32 oz container of plain Greek yogurt
2 large cucumbers, peeled, seeded and diced
2 tsp. garlic, minced
1 tbsp. dill weed
1/2 cup lemon juice
Salt to taste
Directions:
Begin by dicing the onions and place them at the bottom of the crockpot along with the chicken.
In a bowl, combine the olive oil, red wine vinegar, oregano, lemon juice, and garlic. Pour the mixture over the chicken. Add extra water or chicken broth to cover the breasts entirely. Cook on low for 6-8 hours.
At least 2 hours before eating, make the tzatziki sauce. Combine all the ingredients in a large bowl and refrigerate.
When ready to serve, remove the chicken from the slow cooker and chop or shred! Wrap it in a pita with tzatziki sauce! Add red onion slices, tomatoes, and lettuce if you want.
Enjoy!