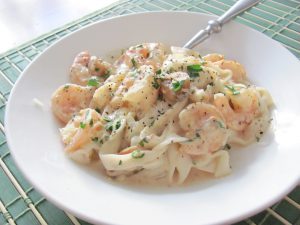 I love, love, love seafood. I also love, love, love alfredo sauce. Here's a super easy meal to make and it's scrumptious!
Here's what you'll need:
For the Pasta:
6 oz. sea or bay scallops
6 oz. shrimp, peeled and devined
1 tsp. minced garlic
1 tbsp. butter
1 box of fettuccine
1 tsp. parsley
For the Alfredo sauce:
4 Tablespoons butter

1 tbsp. minced garlic

4 ounces (1/2 package) cream cheese

1 cup milk 

1/3 cup Parmesan cheese, freshly grated

salt and pepper, to taste
Directions:
Boil water and cook your fettuccine according to the packaging.
Melt the butter over medium heat in a large skillet.
Once the butter has melted, add the garlic and cook until fragrant.
Add the shrimp and scallops to the pan. Let them cook for about 5-8 minutes on each side, depending on the size of the seafood.
Prepare the sauce while the seafood cooks: melt butter in a medium saucepan over medium heat.
Add the garlic and cook until fragrant; about 1 minute.
Place the cream cheese in the saucepan and whisk until smooth.
Add the milk, and whisk until smooth and combined.
Stir in the Parmesan cheese, salt and pepper.
Continue to stir until sauce thickens.
Combine the noodles, seafood, and sauce. Sprinkle with parsley and serve.
Enjoy!