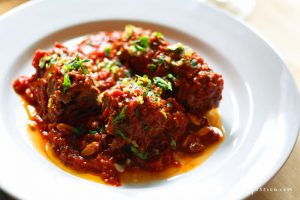 This classic italian meal is absolutely delicious! It's not necessarily hard to make, it just takes a long time because you cook the meat in the sauce, which gives it that delicious and tender taste. Make sure you have butchers twine and a meat hammer! #italian #crockpot
Here's what you'll need:
Beef Rolls
2 Pounds Sirloin or other lean beef, sliced very thin into sheets
8 Ounces Mozzarella cheese
¼ Cup Romano cheese
¾ Cup golden raisins
¾ Cup pine nuts
½ Cup parsley
½ Cup bread crumbs
6 oz. Prosciutto, sliced very thin
2 Tablespoons olive oil
Cotton Butcher's String (for tying the braciole)
Sauce
1 Large yellow onion
¼ Cup olive oil
½ tsp. salt
5 cloves minced garlic
1 tbsp. rosemary
½ tsp. basil
½ tsp. oregano
1 Cup Dry Red Wine
1  can of whole tomatoes (28 oz)
1 can tomato paste (6 oz)
Gremolata (optional)
Zest Two Lemons
4 Cloves Garlic, finely minced
¼ Cup parsley
Directions:
Braciole
Slice the mozzarella into thin strips. Mix the mozzarella in a bowl with the romano cheese, raisins, pine nuts, parsley, and breadcrumbs.
With a meat hammer, pound out the slices of beef until they're as thin as you can get them.
Add a few tablespoons of the cheese mixture to the middle of each flattened sheet of beef. Add a thin sheet of prosciutto. Roll up the sheet of beef to form a roll. Tie the roll securely with butcher's twine. To learn how to properly tie the beef, watch this quick video on Tying a Roast.
Heat two tablespoons of olive oil in a skillet and brown the braciole on all sides until nicely caramelized.
Sauce
Peel and dice the onion and saute in the olive oil and salt in a heavy bottomed stock pot or crockpot until the onion is translucent (about 12 minutes).
Add the garlic and herbs, saute until garlic is cooked and fragrant, but not burned.
Deglaze by adding the red wine. Cook until the wine is reduced in volume by half.
Add the tomatoes and tomato paste. Bring to a simmer,
Add the browned braciole and allow the sauce to simmer on very low heat for two and a half to three hours. This cooks low and slow.

Be sure to stir the sauce frequently

so it doesn't burn on the bottom. If the sauce becomes too thick, thin it by adding a bit of water.
Gremolata (optional)
Simply mix together the ingredients. Sprinkle on top of dish before serving and enjoy!