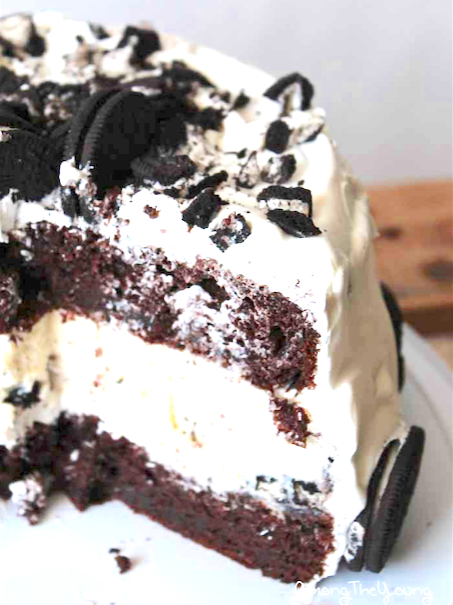 I skipped the normal birthday cake for my fiancé's birthday once and I went with a cheesecake. Not just any, but one inspired by Oreo's. Oreo's aren't just milk's favorite cookie, they're mine too. This cake is incredible and I hope you love it as much as we do!
Here's what you'll need:
For the Chocolate Cake Layers :
2 cups all-purpose flour
2 cups sugar
¾ cup unsweetened cocoa powder
2 teaspoons baking powder
1½ teaspoons baking soda
1 teaspoon salt
1 cup milk
½ cup vegetable or canola oil
2 eggs
2 teaspoons vanilla extract
1 cup boiling water
For the Cookies and Cream Cheesecake Layer:
3 (8-oz.) pkg. cream cheese, softened
1 cup sugar
3 eggs
1 cup whipping cream
2 tablespoons margarine or butter, melted
2 teaspoons vanilla
1 cup coarsely chopped creme-filled chocolate sandwich cookies (about 10 cookies)
For the Cookies and Cream Buttercream Frosting:
2 cup unsalted butter, softened at room temperate
4 tablespoon vanilla extract
9 cups powdered sugar, sifted
7 tablespoons heavy cream
1 cup crushed Oreos
Directions:
For the Cake:
Preheat oven to 350º F. Prepare two 9-inch cake pans by spraying with baking spray or buttering and lightly flouring.
Add flour, sugar, cocoa, baking powder, baking soda, salt and espresso powder to a large bowl or the bowl of a stand mixer. Whisk through to combine or, using your paddle attachment, stir through flour mixture until combined well.
Add milk, vegetable oil, eggs, and vanilla to flour mixture and mix together on medium speed until well combined. Reduce speed and carefully add boiling water to the cake batter. Beat on high speed for about 1 minute to add air to the batter.
Distribute cake batter evenly between the two prepared cake pans. Bake for 30-35 minutes, until a toothpick or cake tester inserted in the center comes out clean.
Remove from the oven and allow to cool for about 10 minutes, remove from the pan and cool completely.
For the Cheesecake:
Heat oven to 325°F. In medium bowl, combine crust ingredients; mix well. Press in bottom and up sides of ungreased 10-inch springform pan. Refrigerate.

In large bowl, beat cream cheese at medium speed until smooth and creamy. Gradually add sugar, beating until smooth. At low speed, add eggs 1 at a time, beating just until blended. Add whipping cream, 2 tablespoons margarine and vanilla; beat until smooth. Stir in 1 cup chopped cookies. Pour into crust-lined pan.

Bake at 325°F. for 50 to 60 minutes or until edges are set; center of cheesecake will be soft. Turn oven off; open oven door at least 4 inches. Let cheesecake sit in oven for 30 minutes or until center is set.

Remove cheesecake from oven. Cool in pan on wire rack for 1 hour or until completely cooled. Carefully remove sides of pan. Refrigerate 8 hours.

Just before serving, top cheesecake with whipped cream; sprinkle with crushed cookies. Store in refrigerator.
For the frosting:
Mix butter until creamy.
Mix in vanilla extract.
Add the Oreo crumbles.
Mix in powdered sugar gradually.
Add in enough heavy whipping cream to get the consistency that you like.
Frost the cake when the cakes have completed cooled!  Assemble the cake with the cheesecake layer in the middle of the chocolate cake layers. Top with the buttercream frosting and decorate with extra Oreos!
Enjoy!