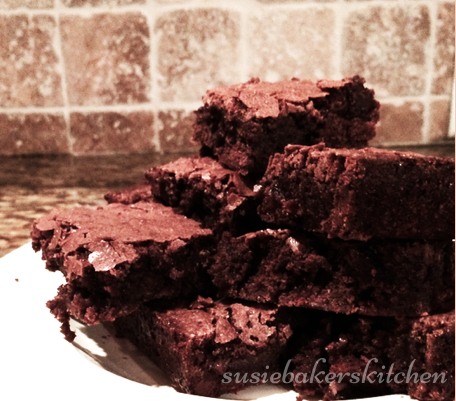 There are two ways brownies can be made: like fudge or like cake. This recipe is more like fudge; it's dense, rich, and practically melts in your mouth.
Here's what you'll need:
1 cup butter, melted
3 cups white sugar
1 tbsp. vanilla extract
4 eggs
1 and 1/2 cups flour
1 cup unsweetened cocoa powder
1 tsp. salt
1 cup semi-sweet chocolate chips
Directions:
Preheat the oven to 375 degrees.
Begin by melting the butter in a large microwaveable safe bowl. Make sure to cover your bowl to make sure the butter doesn't splash all over your microwave! Depending on the power of your microwave, the butter should need no more than a minute to melt.
While the butter is melting, prepare your bowl of dry ingredients. Combine the flour, cocoa powder, and salt and mix together well.
When the butter has melted, add the sugar to the bowl and mix well. Then one by one, beat each egg into the batter. Add the vanilla extract and stir.
Combine your batter with your dry ingredients and stir until there are no lumps. Stir in the chocolate chips.
Pour the brownie batter in a lightly greased brownie pan (I use a 9×13 baking dish) and place in the preheated oven.
The brownies should bake for 35-40 minutes. To check if the brownies are done: insert a toothpick into the middle of the batch, if the toothpick comes out clean, the brownies are done! Let cool and serve!
Enjoy!