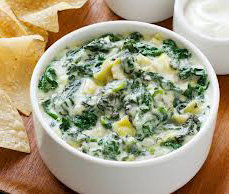 Best spinach artichoke dip, hands down.  I especially love that my recipe uses cheese instead of heavy cream! This delicious dip is always gone quickly when I have friends over. A perfect, easy appetizer to go with any meal.
Here's what you'll need:
2 cups Parmesan cheese, shredded
1 10 oz. box frozen chopped spinach
1 14 oz. can artichoke hearts
2/3 cup sour cream
1 cup cream cheese, softened
1/3 cup mayonnaise
2 tbsp. minced garlic
Directions:
Preheat the oven to 375 degrees.
Let your cream cheese soften by taking it out of the fridge half an hour before you start baking. This will make mixing the ingredients a lot easier! Defrost your frozen spinach. (Most microwaves have a defrost setting. Put the spinach in a microwaveable bowl and add a couple tablespoons of water.) Drain the spinach and set aside.
Combine the cream cheese, Parmesan cheese, mayonnaise and sour cream in a large mixing bowl. Mix together until creamy and then add the minced garlic.
Drain the artichoke hearts from their can and chop them into small pieces. (I buy the can of quartered artichoke hearts to cut down on the chopping.) Add the artichokes and the spinach to the bowl. Mix everything together until evenly combined.
Transfer the dip into a large baking dish. Bake the dip for 20-30 minutes. Halfway through baking, carefully take the dip out of the oven and stir.
Let the dip cool for 5-10 minutes after it's done.
Serve with bread, chips, or crackers and enjoy!