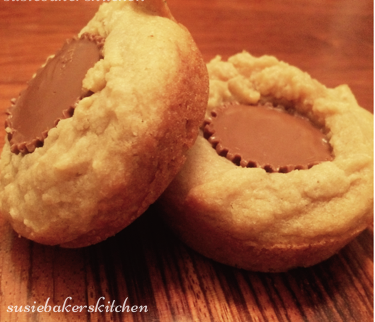 The combination of peanut butter and chocolate may be one of the best in baking. The two flavors compliment each other so well that almost ever baker has their go-to recipe.
Here's what you'll need:
1 and 3/4 cup flour
1 tsp. salt
1 tsp. baking soda
1/2 cup peanut butter
1/2 cup butter, softened
1/2 cup white sugar
1/2 cup packed brown sugar
1 tsp. vanilla extract
1 egg
2 tbsp. milk
24 Reese's Miniature Peanut Butter Cups (Individually wrapped)
Directions:
Preheat the oven to 350 degrees.
Remember that the key to the perfect cookie is making sure all of the ingredients are room temperature when they get combined. These means take all of your cold ingredients out of the fridge (butter, eggs, milk) about 15-30 minutes before baking.
Combine the butter, peanut butter, white sugar, and brown sugar in a large mixing bowl. Mix well until creamy. Add the egg, milk, and vanilla extract, and stir.
Prepare your dry ingredients (flour, salt, and baking soda) in a separate bowl. Remember that measuring flour correctly is one of the staples to making a perfect cookie! Mix well until combined.
Add your dry ingredients to your cookie batter and stir until there aren't any lumps. If you like thicker cookies, let the cookie dough refrigerate for 15-30 minutes before portioning it into your muffin pans. When the dough is ready, roll them into balls, or use a cookie scoop, and portion them into lightly greased mini-muffin pans.
While the cookies are baking, begin unwrapping the Reese's Peanut Butter Cups. Bake for 10-12 minutes in the preheated oven until the cookies start to turn golden brown. Take the muffin pans out of the oven just before you think they look done! (Cookies bake in their pans even after you take them out of the oven.)
Immediately after you take the muffin pans out of the oven, put one Reese's Peanut Butter Cup in the center of each cookie. Press down gently on the Reese's Cup to get the top of the cup level with the top of the cookie. Let them cool and serve!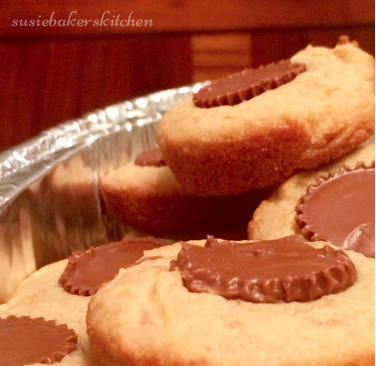 Enjoy!