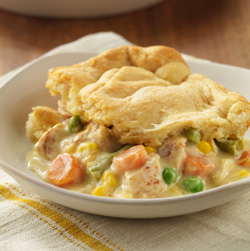 My number one, favorite comfort food is chicken pot pie. I love this recipe because it uses cheese to cream up the filling, instead of only soup! And don't be afraid to play with the proportions and spices. You won't need another recipe for your guilty pleasure chicken pot pie!
Here's what you'll need:
2 pie crusts
1 can cream of chicken soup
15 ounces mixed vegetables (carrots, corn, peas, green beans, lima beans etc.)
3/4 cup sun dried tomatoes, julienned
1 lb. shredded chicken
1/2 medium Spanish onion
1 tbsp garlic powder, or to taste
2 tbsp Emeril's Original Essence All Purpose Seasonings
1 tsp dried basil
1 cup cream cheese
1 egg
Directions:
Preheat oven to 425 degrees F (220 degrees C).

Boil a pot of water and cook chicken. Season the chicken to taste before and

after

cooking

.

In a large mixing bowl combine soup and softened cream cheese. Mix until thoroughly blended. Stir in vegetables, tomatoes. and shredded chicken.

Pour chicken mixture into pastry-lined pie pan. Cover with top crust. Seal and cut steam vents in top. Cover edges of crust with aluminum foil to prevent overbrowning.

Bake in preheated oven for 35 to 40 minutes. Remove foil halfway through baking to allow edges of crust to brown. Check often late in cooking time to ensure crust is not burning
Enjoy!