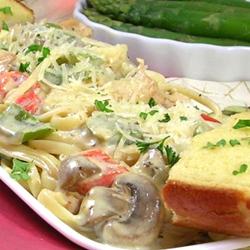 This yummy pasta is full of fresh vegetables and Cajun spices. Pair it with diced chicken and you can make the whole dish in almost one pan. I use linguini for this recipe but any pasta will do!
Here's what you'll need:
4 oz. pasta
2 boneless, skinnless chicken breasts
2 tsp. Cajun seasoning
2 tbsp. butter
1 green bell pepper
1/2 red bell pepper
4 oz. mushrooms
1 cup chopped green onions
1 1/2 cups half and half
1/4 tsp. basil
1/4 tsp. lemon pepper
1/4 tsp. salt
1/8 tsp. garlic powder
1/8 tsp. black pepper
6 tbsp. grated Parmesan cheese
cornstarch (optional)
Directions:
Boil a large pot of water and cook the pasta according to the directions on the package.
Start by melting the butter in a large skillet over medium-heat.
Season the chicken with Cajun seasoning and cut it into small pieces and cook in skillet.
Put the chicken aside once it's done and cover with tin foil to keep it warm.
Next, cook the vegetables in the same skillet. Let them cook until they are soft.
Add the half-and-half, along with the lemon pepper, garlic powder, and salt and pepper.
Bring to boil to let it thicken. If you like a thicker sauce, you can add some cornstarch to it, but make sure you mix the cornstarch with water before adding it to the sauce. Otherwise, the sauce will be clumpy because the corn starch didn't break apart.
Once the sauce is done, combine the pasta, chicken, vegetables and sauce in one large serving dish.
Serve with bread, maybe try my garlic knots, and enjoy!