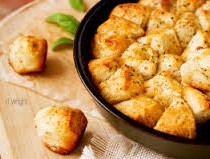 These pull apart rolls are absolutely perfect. They have the flavor of cheesy, garlic bread but they're bite size! Quick and easy- these are great to serve with any Italian meal you make.
Here's what you'll need:
2 cans (7.5 oz, each) Buttermilk Biscuits
4 tbsp. butter, melted
1 tbsp. Italian seasoning
1 tsp. garlic powder
3/4 cup Colby-Monterey jack cheese, shredded
Directions:
Preheat the oven to 350 degrees.
Begin by cutting the biscuits in halves. Then roll these halves into balls. Place the balls into a large bowl.
Pour the melted butter over the balls and lightly toss to mix. Add the seasonings and cheese into the mix. Do this gently and slowly so the dough balls keep their shape!
Transfer the dough balls one by one into a lightly greased pie plate. Bake for 20-25 minutes The rolls are done when the dough turns golden-brown.
Enjoy!