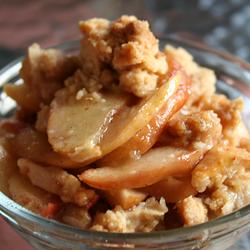 Want the apple pie taste but don't have the time to make a pie? This recipe has the same kick and you can throw it in the crockpot and let it do it's thing!
Here's what you'll need:
For the Topping
1 cup flour
1/2 cup brown sugar
1/2 cup white sugar
1/2 tsp. cinnamon
1/4 tsp. nutmeg
1 pinch salt
1/2 cup butter
1 cup walnuts
For the Apples:
1/3 cup white sugar
1 tbsp. cornstarch
1/2 tsp. cinnamon
1/4 tsp. nutmeg
6 cups apples
2 tbsp. lemon juice
1 pkg. cinnamon and apple instant oatmeal
Directions:
Begin by coring and slicing the apples.
In a large bowl, combine all of the apple ingredients, along with the apples, and mix to cover the apples.
In another bowl, combine the ingredients for the toppings and mix well.
Put the apples in the crockpot and cover with the topping.
Cook on low for 2-3 hours. Take off top half way through to make sure it doesn't overcook!
Serve with a scoop of vanilla ice cream and enjoy!