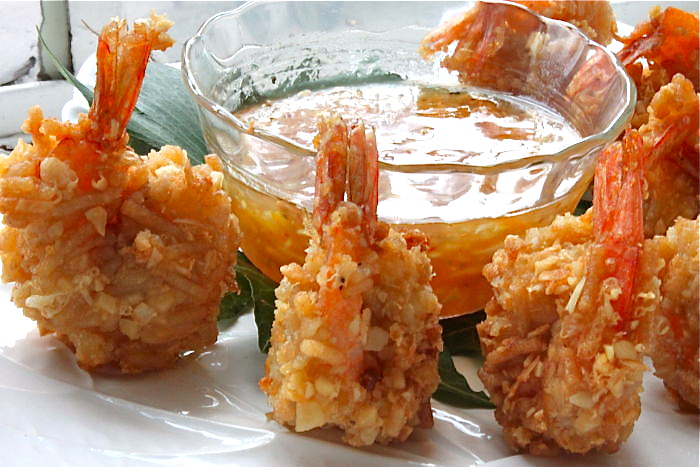 Oh man, does my honey love coconut shrimp, and it's so easy to make! This is his go-to favorite for his birthdays, valentines day, anniversaries…you get the idea.
Here's what you'll need:
1/3 cup all-purpose flour (or whole wheat)
1/2 teaspoon salt
1/2 teaspoon pepper
2 large eggs, beaten
3/4 cup Panko bread crumbs
1 cup sweetened shredded coconut

1 pound

 raw 

large shrimp, peeled and deveined with tails attached

1 quart coconut oil
Directions:
Start with 3 medium ziploc bags. Combine flour, salt, and pepper in one. Beat the eggs, and pour into the second bag.  Combine Panko and coconut in the third bag.
Dip the shrimp into the flour, then the eggs, and then dredge the shrimp into the coconut mixing, pressing gently to make everything stick.
Add enough oil to cover the bottom of a large skillet on medium heat. Fry the coconut shrimp in batches (too much in one pan will cool the oil and make them fry less evenly). Flip after 2 minutes and fry the other side for 2 minutes or until golden brown.
Place the finished coconut shrimp on a plate lined with a paper towel as you fry the rest.
Serve with a dipping sauce of your choosing and enjoy!