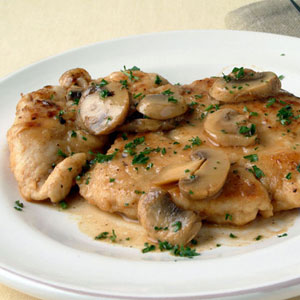 1 tbsp olive oil
2 tbsp butter
1-1 1/2 lb skinless boneless chicken breast
1/2 cup flour
1/2 cup diced onion
1 tbsp. minced garlic
1 tbsp creole seasoning (I use the Emeril brand for this, their creole seasoning is called Essence)
1 pkg white mushrooms
1/2 tsp garlic powder
3/4 cup Marsala cooking wine
1 cup chicken broth/stock
1+ tbsp cornstarch, depending on how thick you want the sauce
Salt and pepper, to taste
1 pkg. pasta
Boil water for the pasta. Cook pasta according to directions on box.
Halve the chicken breasts and pound thin.
In a ziplock bag, pour the flour and the creole seasoning. Close the bag and shake to mix.
Heat the olive oil in a large skillet. Once it's hot, add a tbsp of butter.
Place the chicken breasts in the ziploc bag, one at a time, and shake to cover each piece of chicken in the flour mixture (lightly, it doesn't need to be smothered).
Place the chicken in the skillet and cook until golden brown on each side. Cover with a lid while cooking. It shouldn't take longer than 10 minutes to cook the chicken all the way through.
When the chickens done, remove the meat from the skillet and keep warm (either in the oven on low or on a plate covered in tin foil).
Add a tbsp of butter to the skillet, once it's melted, add the onions and minced garlic. Cook until the onions become soft and then  add the mushrooms. Cover and let the mushrooms become golden-brown.
Add the wine and garlic powder and bring to a boil.
Once the wine has reduced by half, add the chicken broth. Stir and bring to a boil again.
In a separate glass, mix the cornstarch and a tbsp of water together. Pour into the boiling sauce, and let it thicken (should only take a couple of minutes)
For a thick sauce, continue to add cornstarch. But it HAS to be mixed with water first or else the cornstarch won't dissolve and will just give you white clumps in your sauce.
Add salt and pepper to taste.
Serve the mushrooms and chicken with pasta. Pour the Marsala sauce over the chicken and mix with the pasta.
Serve with your favorite noodles and vegetable and enjoy!