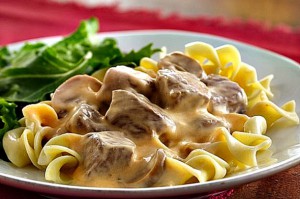 Beef Stroganoff is a delicious dish that both kids and adults enjoy. I loved stroganoff when I was growing up, but I think I love it even more now! This recipe is just so easy; I'll never need another stroganoff recipe, ever!
Here's what you'll need:
1/2 cup white onion
1 tsp. minced garlic
1/4 cup butter
1 lb. beef
2 tbsp. flour
1 tsp. salt
1/4 tsp. ground black pepper
1 lb. mushrooms
1 can cream of chicken & mushroom soup
1 cup sour cream
1 pkg. egg noodles
Directions:
Begin by preparing your beef. I like to use top sirloin for this dish, but ground beef or any other cut will work just fine! Usually, I only buy my beef when it's on sale. I've tried this stroganoff recipe with many different cuts and they all taste great!
Season your meat with salt and pepper, cut into bite size pieces, and cook in a lightly greased skillet over medium heat. The trick to cooking beef on the stove is to stir the meat often in the skillet; you don't want it to stick to the bottom and burn.
Boil a large pot of water and add the egg noodles. Check the instructions on the bag of noodles, but it should take about 9-12 minutes for the noodles to cook. When the noodles are no longer firm, drain the pot and set the noodles aside. Season the pasta with salt and pepper, to taste.
While the meat is cooking, dice the onions and slice the mushrooms. Remember to peel the skin off of your onion! I usually remove the skin, plus an outer layer to make sure that I don't miss any skin!
When the meat is done, remove the beef from the skillet, set aside, and keep warm. Keep the grease and beef juices in the skillet! This adds so much yummy flavor to the sauce. Turn the heat on the burner up a little, and place the minced garlic, onions, and mushrooms in the skillet. (I like to cook meat on lower heats to make sure they don't overcook and get tough. For sauces that need to thicken, its important to have a burner that's hot enough to thicken the mixture, but more on that later!)
The mushrooms and onions should take about three minutes to start softening. The onions will become translucent and the mushrooms will become brown. Add the flour and stir. The flour is the thickening agent, and will create the bases for the sauce.
After the mixture has thickened (bring it to a simmer, about three minutes), add the cream of chicken & mushroom soup and sour cream. Stir well until the mixture is thick and creamy.
Once the sauce is done, combine the beef, noodles, and sauce in a large bowl.
Serve and enjoy!