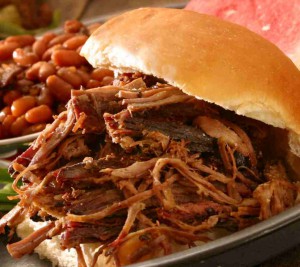 This recipe is perfect for a Sunday barbeque or even just a weeknight dinner!   If you are making the recipe for only a handful of people, you can use pork shoulder steaks instead. They take only 20-30 minutes to cook in the crockpot and still easy to shred.
Here's what you'll need:
2 medium yellow onions, diced
2 tsp. garlic, minced
1 cup chicken broth
1 tbsp. brown sugar
1 tbsp. chili powder
1 tbsp. salt
1/2 tsp. cumin
1 tsp. cinnamon
1 boneless pork butt or shoulder (about 4 lbs.)
2 cups barbeque sauce (I use Sweet Baby Ray's! Always a classic choice.)
hamburger buns or Hawaiian rolls
Directions
Begin by dicing the onion. Place the onions on the bottom of the crockpot. Next, combine the garlic, brown sugar, chili powder, salt, cumin, and cinnamon in a mixing bowl.
Spread the sugar mixture all over the pork butt evenly.
Place the pork in the crockpot on top of the onions. Pour chicken broth into the crockpot, enough to cover the meat completely.
Let the meat cook for 6-8 hours on LOW before shredding it!
An hour before you're ready to eat, remove the pork butt, drain the leftover broth and onions, shred the pork, and return it to the crockpot along with the barbeque sauce. Let the meat cook on LOW for an hour or two before serving!
Serve it in between toasted buns and enjoy!
[do_widget categories]
[do_widget id=search-4]