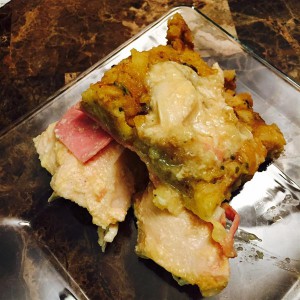 Here's my twist on a classic: Chicken Cordon Bleu. It may not be wrapped cleanly but I think it tastes even better! And it's made in a crockpot so it's a great go-to meal on a busy weekday.
Here's what you'll need:
Directions:
Mix together the cream of chicken soup and milk in a small bowl.
Pour enough of the soup into a slow cooker to cover the bottom.
Layer chicken breasts over the sauce.
Cover with slices of ham and then Swiss cheese.
Pour the remaining soup over the layers, stirring a little to distribute between layers.
Sprinkle the stuffing on top, and drizzle butter over stuffing. Cover, and cook on Low for 4 to 6 hours, or 2 to 3 hours on High.
Serve with your favorite vegetable and enjoy!