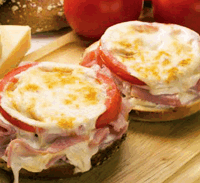 This simple breakfast is soooo yummy. This recipe is great for a Saturday morning and both kids and adults will love it! I like ham on my melts, but my fiancé loves bacon! Feel free to experiment with the meats and cheeses!
Here's what you'll need:
4 slices deli-thin ham or 2 strips of thick-cut cooked bacon
2 thick slices of mozzarella cheese
2 thick slices tomato
2 eggs
1/4 cup milk
1/8 cup cream cheese
bagel
salt and pepper, to taste
Directions:
Preheat oven to broil, or 500 degrees.
Very lightly toast bagel and generously spread cream cheese to each bagel half.
Whisk 1 of the eggs and half the milk together in a separate, microwave safe bowl. Microwave on high for 1 minute. Add salt and pepper to taste.
Place the scrambled eggs on top of one of the bagel halves.
Repeat this process for the 2nd egg.
Next, place the meats on top of the eggs on each bagel half.
Add the tomatoes to each half and top with the slices of cheese.
Place on baking sheet and broil in oven for 2 minutes. It is ready when the cheese begins to bubble and brown!