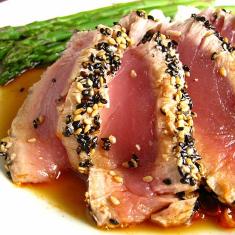 Tuna is one of my favorite fish to cook with. It's relatively inexpensive and usually kid friendly if you have picky eaters! This recipe is scrumptious and perfect for a light, weekend meal. You can make this on a grill, a griddle, or a cast iron skillet!
Here's what you'll need:
2 cups diced papaya
1/2 red onion, diced
1 red bell pepper, diced
1/4 cup chopped fresh cilantro
2 tablespoons lime juice
1 clove garlic, minced
1/2 fresh jalapeños
4 (6 ounce) tuna steaks
1/4 cup extra-virgin olive oil
salt and pepper to taste
3 eggs
1/2 cup chopped macadamia nuts
Directions
Combine the papaya, onion, and red pepper in a bowl. Add the cilantro, lime juice, garlic, and jalapeno. Toss to combine, then refrigerate until ready to serve.
Preheat a grill, griddle, or cast iron pan on medium-high heat, and lightly oil.
Brush the tuna steaks with olive oil, then season with salt and pepper. Whisk the eggs in a shallow bowl until smooth. Dip the tuna steaks in the egg, and allow excess egg to run off. Press into the macadamia nuts.
Cook the tuna steaks on the preheated grill to your desired degree of doneness, about 2 minutes per side for medium.
Serve with the papaya salsa, and maybe potatoes and a vegetable and enjoy!