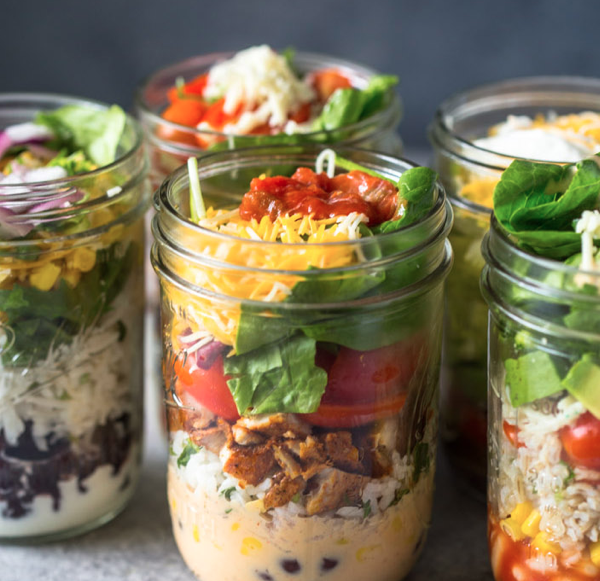 ½ cup dressing salsa
1 cup pinto beans
1 cup corn
2 cups cooked brown rice
2 cups chopped grilled chicken
1 cup diced tomatoes,
1 cup avocado
1 cup romaine lettuce
1 cup red onion
sprinkle of mozzarella cheese
1 tablespoon chopped cilantro
Juice of ½ lime
4 (16oz) pint mason jars
Instructions
Cook rice according to package directions. Once rice is finished cooking, stir in 1 tablespoon cilantro and juice of ¼ lime for every cup of cooked rice. This step is optional.
In a pint size mason jar, layer ingredients in the following order: 2 tablespoons dressing, ¼ cup black beans, ¼ cup corn,rice, ½ cup chicken, ¼ cup tomato, ¼ avocado, ¼ cup romaine, and cheese. Repeat for all 4 mason jars. Cover with lid and refrigerate.
When ready to eat, shake jar until contents are mixed and enjoy pour or into a bowl and top with crumbled tortilla chips!
SaveSave
SaveSave