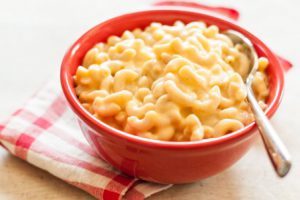 Macaroni and Cheese is the ultimate comfort food. Whether it's a main meal (try my Jalapeño Mac N' Cheese!) or a sidedish, every aspiring cook should know how to make a mean Mac N' Cheese.
Here's what you'll need:
1 and 1/2 cups uncooked pasta
1/4 cup butter
2 tbsp. all-purpose flour
1 tsp. mustard powder
1 tsp. ground black pepper
1 tsp. garlic sat
2 cups milk
1/2 lb. Velveeta, cubed
1/2 lb. American cheese, cubed
1/2 cup cheddar cheese, shredded
1/4 cup breadcrumbs
6 oz. bacon crumbles (optional)
Directions:
Preheat the oven to 350 degrees.
To start, you'll need a medium saucepan over medium-low heat. Melt your butter. Next, prepare a pot to boil the pasta. Follow the directions on the pasta box, but it shouldn't take longer than 12 minutes. Drain noodles, add 1/2 tsp. garlic salt, and set aside.
Once the butter has melted, whisk the flour in one tbsp. at a time. If you take the pot off the burner while your whisking the flour, it'll be easier to work with. Flour, when overheated, gets clumpy–and you don't want that!
Add the ground mustard, pepper, and 1/2 tsp. garlic salt to the sauce pan. Stir well. Turn the heat up on the burner from medium-low to medium.
Cube your Velvetta and American cheese and slowly add it to the sauce pan. Next, add only some of the milk, and alternate between adding cheese cubes and pouring milk. Add more milk depending on how thick you prefer your cheese sauce.
When the cheese sauce is ready, mix it with the noodles and pour into an un-greased 9×13 baking dish. If you are choosing to add the bacon crumbles, mix those in too! Top it off by adding a layer of shredded cheddar cheese and breadcrumbs. Bake for 20-30 minutes, or into the cheese is bubbly and serve!
Happy munching!